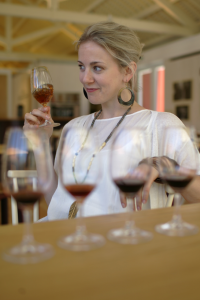 Sarah Bray, DWS, is a wine-focused communications professional with a background in editorial and brand content creation, strategic development and implementation, event planning and execution, and digital marketing.
She has spent the past several years focusing on strategic planning for wineries and regions, from private customer development and event planning to website and communications strategy, for brands including Tenuta di Trinoro (Tuscany), Passopisciaro (Mt. Etna), Iron Horse Vineyards (California), and Sherryfest (an event promoting the wines of Jerez to American audiences). She joined the team of Vinconnect in 2018 as European Director, liaising with top estates in Europe to develop their direct-to-consumer marketing channels. 
She formerly worked as the director of digital marketing and development for SAVEUR magazine and brand strategist for the wine auction and retail divisions at Sotheby's. She is a contributor to The Sommelier Journal, Departures, SAVEUR, SevenFifty Daily,The Tasting Panel, and other publications. 
She has her Diploma in Wine & Spirits from the internationally-renowned Wines & Spirits Education Trust, based in London. She speaks Italian and French and looks forward to working on her Spanish.
photo credit: RJ Mickelson