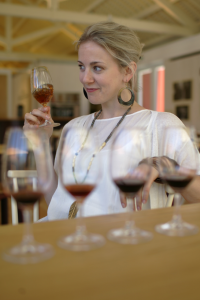 Sarah H. Bray is a wine-focused communications professional with a background in editorial and brand content creation, strategic development and implementation, event planning and execution, and digital marketing. She has formerly worked as the director of digital marketing and development for SAVEUR and brand strategist for the wine auction and retail divisions at Sotheby's.
She is a frequent contributor to The Sommelier Journal, Departures, SAVEUR, The Tasting Panel, and other publications. Through her company SHB Communications, she focuses on strategic planning for wine brands and regions, from client development and event planning to website and communications strategy. Her clients have included: the wines of Andrea Franchetti (Tenuta di Trinoro in Tuscany and Passopisciaro on Mt. Etna), Iron Horse Vineyards, Winebow, and Sherryfest.
She currently holds an Advanced Certification from the Wines & Spirits Education Trust and is a Diploma candidate. Above all, she is a wine-lover and traveler in pursuit of defining the nuances of the bottles she has loved, exploring new places through new tastes, and finding enjoyment in a simple yet excellent glass of wine with friends and family over (very long) meals.
photo credit: RJ Mickelson